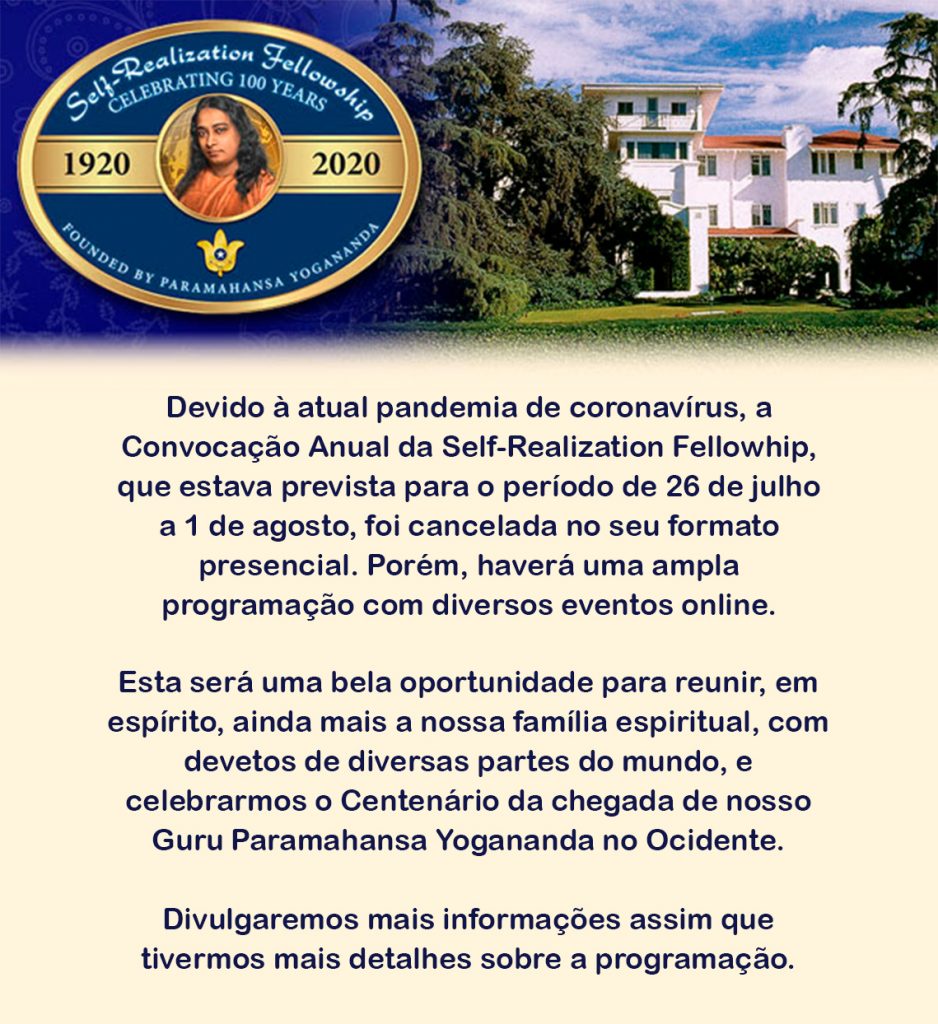 Texto na íntegra em inglês:
Dear Friend,
We have important news for you about this year's SRF World Convocation, scheduled for July 26 – August 1, 2020.
As most of you know, the city of Los Angeles (along with most other areas of the United States and other countries) has been under strict "stay at home" orders for some weeks because of the COVID-19 (coronavirus) pandemic. All public gatherings and a wide range of other activities have been suspended during this time. It is not known when such activities will be allowed to resume, but a few days ago Los Angeles Mayor Eric Garcetti announced that large public events and group gatherings scheduled for Los Angeles will not be permitted anytime soon, perhaps not even before 2021.
Therefore, after discussion with the management of the Westin Bonaventure Hotel, site of the annual SRF World Convocations in Los Angeles, we have had to cancel the in-person events scheduled for this year's Convocation.
Though we must cancel our coming together in-person this year, we are going to present a wide range of the 2020 SRF World Convocation events online, transforming this international spiritual gathering into an event capable of reaching thousands more worldwide.
Details of our revised program are still being worked out, and we will share them as soon as possible. But we wanted to communicate the above information to you now, since it may impact your travel plans and personal scheduling.
We know that those of you who have already registered for Convocation will have questions about refunds, credit, or donation options, and we ask for your patience as we work out these details, which we hope to have completed in the next couple of weeks. As soon as we do, we will reach out to you again. For those of you who have reserved rooms at the Westin Bonaventure Hotel, the L.A. Hotel, the Kawada Hotel, and the Millennium Biltmore Hotel, they will automatically cancel your reservations. If you have made reservations at the Stillwell Hotel, please email your cancellation request directly to the hotel at your earliest convenience.
Over the years, so many of you have shared with us the profound joy and inspiration that you have experienced by attending Convocation — immersing yourselves in the sacred teachings of our beloved Gurudeva, Paramahansa Yogananda, and joining together for group meditation, kirtan, satsanga, and spiritual fellowship. We are certain that same divine joy and inspiration, through the blessings of the SRF Gurus, will be felt as we join together this year for a very special Convocation online.
As Paramahansaji reminded us so beautifully:
"Just beneath the shadows of this life is God's wondrous Light. The universe is a vast temple of His presence. When you meditate, you will find doors opening to Him everywhere. When you have communion with Him, not all the ravages of the world can take away that Joy and Peace."
Please know that you and your loved ones are ever in our daily thoughts and prayers. May God and Gurus ever guide, bless, and uplift you.
In divine friendship,
Self-Realization Fellowship